Baby, It's Getting Cold Outside! 
We love to see the seasons change! In the winter we hope for those snow flurries on Christmas morning, just like in the movies. But the cold weather brings trouble for our outdoor water sources that keep our lovely lawn green and yummy fresh veggies watered in the summer.
Repair or replacement of damage due to cold and freezing temperatures can become very expensive. Protect your home by utilizing these simple steps to prevent pipes and faucets from freezing weather.
Start by turning off your automatic timer on your sprinkler systems, then close the inside valves around the house that supply water to the outside water sources and bleed lines of standing or residual water.
Here's a helpful DIY video to give you some guidance on closing a hose bib valve: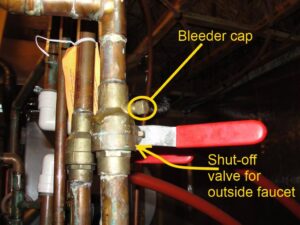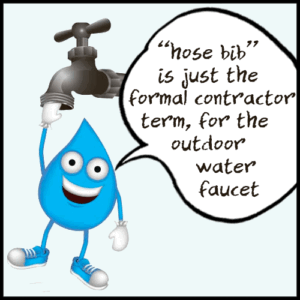 Put the Hoses to Bed
Frozen hoses can cause more damage than you may realize. The frozen water inside of a hose will expand up into pipes and cause increasing pressure throughout the entire plumbing system. Be sure to check around your home or property for where water supplies come out from walls or foundations. Remove all hoses and store them indoors.
Now that your water sources are closed and cleared of residual water you can start to cozy them up for that chilling evening freeze. You should be able to find all the supplies you need at your local hardware store and on a very modest budget.
Look for foam sleeves for any pipe that may run from your property to the ground that is exposed. You can also use this same foam sleeve in your crawl spaces or attics that may have exposed pipes.
To prevent spigots from freezing and cracking you will look for foam cones that are designed to sit over your hose connections.
If you live in very cold climates you can add heat tape to exposed pipes and you will want to be sure to check for vulnerable pipes in your crawl spaces and attic.

In a pinch, there are other indoor measures you can take to prevent indoor breaks and water damage. Try leaving your faucet dripping or leaving cabinet doors open to allow home heat to flow around pipes.
Emerson Contracting NW hopes that your winter season is safe and secure. If you have questions or special concerns about winterizing, water repair needs, or other water control issues, please call 503-837-1372 or use our handy contact form and we'll get back to you. We can answer your questions and provide guidance during these cold winter months.