Water Drainage: The Not-So-Fancy French Drain

What is a French drain and why would you need one? Our previous article on water resistance explains the nature of water flow. A French drain is one of the solutions that Emerson Contracting NW provides for drainage problems.
Let's Talk About French Drains!
French drain may sound fancy, but unlike the many fancy items France has brought us, a French drain is not that fancy at all.
French drains are mainly used around the base of a structure or along a driveway to divert standing or pooling water to a more desirable location. In Oregon, the wet conditions and underlying clay soil create the perfect environment for standing and pooling water.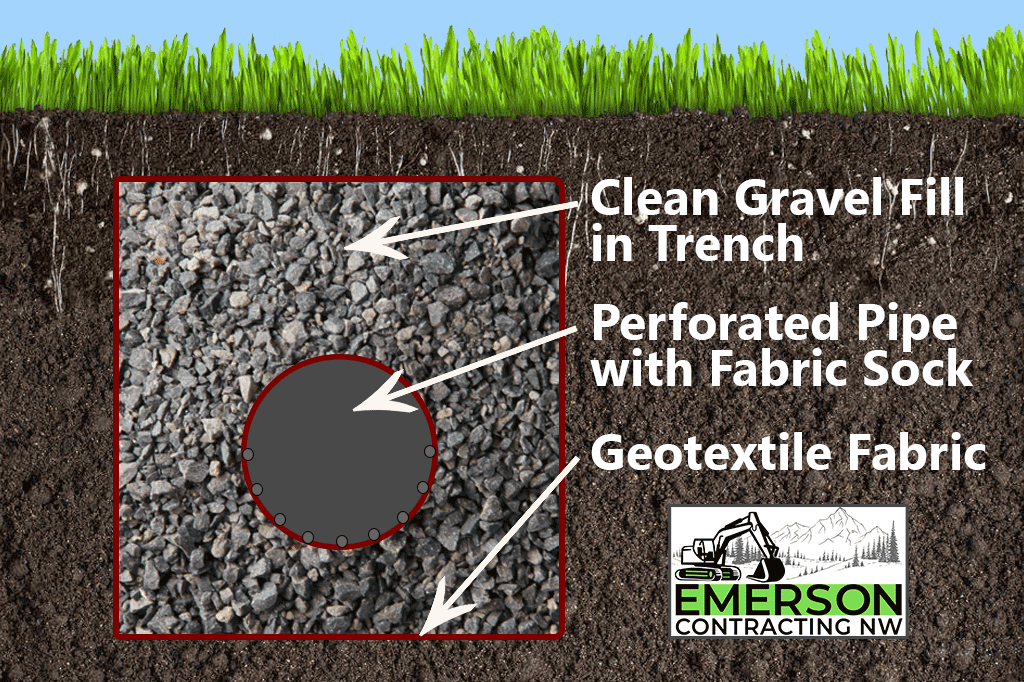 We start by digging a small trench with a slope in the area that needs drainage.  The trench is then wrapped with a geotextile fabric. A long, perforated pipe wrapped in fabric called a sock, is placed inside the trench.
The next step is to cover the pipe and fill the trench with clean rock. This allows water to drain into the pipe and rerouted away from your property.
An additional step is taken in the case of basements or crawlspaces. If there is water leaking into the foundation or lower levels of a home, a seal is placed on the outer side of the building to prevent further leaking or property damage.
Regular maintenance of your French drain is important too! Keep your rock clear of debris and dirt and flush the pipes annually so it will continue to work it's best.
If you have questions about French drains or concerns about a water drainage problem at your home, please contact Emerson Contracting NW!  Call 503-837-1372 or use our handy contact form and we'll get back to you.